mediation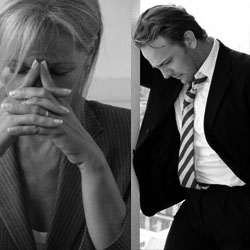 Divorce mediation
Admitting that your relationship as partners is over is not the first stage in a divorce. That is, after all, the dialogue between the two of you to make clear that a divorce is a fait accompli. Often this is accompanied by strong emotions. Grief, anger or fear are part of it. That makes this first message, also called the divorce report, so difficult.
Divorce mediator
Especially at this very beginning of the divorce process, an experienced divorce mediator can already be very valuable. If only to learn how to inform your children carefully about your decision to get divorced.
In addition to the attention to emotional processing, we also offer you the necessary information, so that you know what a divorce means for you both legally, fiscally and financially. Knowing what you're up to in that respect gives insight. Creates peace. Forms a path along which you enter a new future.
Parenting plan
If you have underage children together, we will guide you in drawing up a plan that divides care and education among yourselves. The starting point here is that you remain responsible for care and education together. Also in a practical sense. Of course, the best interests of the child are paramount.
Looking for solutions together and finding them leads to sustainable agreements. That is the added value of mediation. Our specialization as a financial divorce mediator is an important advantage for you. The whole process is in reliable hands with us.
Brief summary content online or personal divorce mediation
To give you a first impression of what issues should be agreed upon in the case of a divorce, here follows a summary. But first realize that our services are also possible online by video.
Settle or distribute
The ending of a marriage or registered partnership is determined by the way in which you are legally interconnected. If you have made prenuptial or partnership terms, they will in many cases also determine the "rules of the game" that apply to ending the relationship. That is why it is important that we, as your divorce mediator, are well informed of the relevant legal provisions that apply to you.
Distribution of assets and liabilities
Common capital will have to be distributed. In case of (im)movable property, you will have to agree on the valuation of the goods. An agreement on how valuation takes place is important in this case. Issues of emotional value can cause problems in the distribution of property.
Maintenance
Maintenance and agreements on this, even in the case of child support, can be mutually determined among themselves. The calculation of maintenance according to the judicial standard, the so-called 'Trema-norm', requires a good understanding of income, expenditure and the tax provisions on this. The issue of the future home of either partner also plays a role in this. As a financial planner, we are willing to support you with information to make a good estimate of these costs. Separate budget calculations help to support the Trema calculations in order to make good maintenance agreements.
Overseeing the tax consequences
Distribution of real estate can lead to transfer tax. Distribution of policies of life insurance or redemption can lead to additional charges including income tax. The valuation issue of parts of the assets, for example, also plays a role in this. Calculating how much the company is worth based on a factor times any profits, is insufficient. The tax claim will also have to be taken into account.
Issues of social security
The entitlement to child benefit, housing benefit, childcare benefit, healthcare allowance and assistance. All legislation that is an essential part of the new situation. In the information, these issues should not be neglected.
Retirement rights
This law leaves the initiative with the two partners. This provides scope for customization. In this way, the least earning partner can reasonably secure the old-age income. As pension experts, we can also make actuarial calculations to calculate the value of pensions. This allows pension claims to be placed in a broader perspective for the distribution of assets; pension claims are also property.
To Court
If all agreements are laid down, they will be submitted to the court. We ensure that your agreements are carefully defined. After the decision (formerly called the judgment) and the registration in the registers of the municipal basic administration, the divorce is formally a fact.
New agreements
If circumstances change, either with the maintenance payer or with the maintenance recipient, parties can negotiate new agreements. Also at that stage an neutral third party is important. The new agreements, often the maintenance or parts of the parenting plan, can be laid down in writing among yourselves. Only when both parties can't reach agreement the court will be enabled.
For an agreement on divorce mediation in the region
Amsterdam and Zaanstreek - Waterland please call 020-482.58.42.
The Gooi, Almere and Utrecht please call 0294-25.34.44